Gannon University – Erie, PA – April 17th – 19th, 2020
The National Club Basketball Association is excited to announce the first ever National Club Basketball Association Women's National Championship tournament will be held in Erie, PA in the Hammermill Center on the campus of Gannon University. Eight NCBBA-W teams will advance to the National Championship tournament, which is set to take place Friday, April 17th through Sunday, April 19th. The event will be a single elimination, three-day tournament that will ultimately determine the 2020 National Champion. On Saturday (April 18th) we will be hosting the 1st NCBBA-W skills competition and NCBBA-W All Star Game.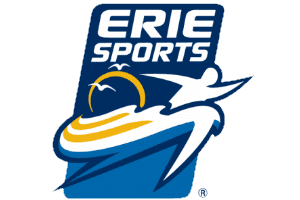 Attendance and Travel Information
Visit Erie/Erie Sports Commission
The NCBBA is proud to partner with the Erie Sports Commission to host this inaugural National Championship Event.  For more information about Erie and the surrounding area and attractions, check out the official tourism site of Visit Erie.
Airport
If your trip to the NCBBA National Championship requires you to fly, Erie International Airport (ERI) is just 15 min from Gannon.  Visit ErieAirport.org for more details.  Alternate options are Buffalo Niagara International Airport (BUF), Cleveland Hopkins International Airport (CLE), and Pittsburgh International Airport (PIT) all of which are just 2 hours or less from Erie.
Renting Vehicles
Whether needing vans to get your team to the NCBBA National Championship or simply picking up a car at the airport, consider booking with Avis, official sponsors of the NCBBA.  Besure to use code D712300 when booking to get a discounted rate as well as having the under 25 fee waived.
Lodging
The NCBBA will be securing a host hotel for all participating teams to stay in so that sufficient room block are available at discounted prices.   Stay tuned for more information as the host hotel is secured.
Directions
Plug these addresses into your GPS to help you navigate around Erie during your visit to the NCBBA-W National Championship:
Host Hotel –   TBD
Venue – Gannon University – Hammermill Center – Intersection of Peach St & S Park Row  Erie, PA 16501
Parking – Teams and spectators should park either on the street if available or in the 712 Peach St Garage as seen on the Gannon Campus Map
Hospital – UPMC Hamot – 201 State St, Erie, PA 16550
Tickets
Tickets to the NCBBA-W National Championship are available only at the Ticket Office the day of the game.  NO PRESALE.  Prices for a day pass are $6 for Adults, $5 for Students, and $4 for children 12 and under.  Visa, Mastercard, and Discover are accepted.
Continue to check back, more information will be added as it becomes available. We look forward to seeing you at the NCBBA-W National Championship!
Follow Live!
During the NCBBA-W National Championship, fans not in attendance will have the opportunity to listen to a live play by play broadcast of all the tournament games over the internet as well as a real time statistical game tracker.
Skills/All Star Competition
On Saturday April 18th, beginning at NOON EST, the NCBBA-W will be hosting the 1st annual NCBBA-W Skills Competition.  Contestants from around the NCBBA-W will be competing in events such as a Three Point Competition, the NCBBA Obstacle Course, and Shooters Chaos Competition.  Following the Skills Competition, the 1st annual NCBBA-W All Star Game will take place featuring participants from the NCBBA-W National Championship Tournament field.